Cost and labor efficiency concerns are dictating use of more versatile food service equipment in hotels.
The days of kitchens with unlimited space and unregulated equipment usage are over. Today's hotel food service departments are surviving lodging's tough times by evolving into leaner, meaner machines. They're equipping their kitchens with labor-lean and space-saving items and learning to do more with less. They're also looking for ways to save on what equipment they do purchase, consultants say.
The trend toward smaller kitchens reflects not only increased land costs but more multi-use equipment such as pressure cookers and cook and hold ovens. Harry Schildkraut, vice president with design consultant Cini-Little International, says the downsizing trend has been going on for the last decade. "In working with the major chains, we've found that they want to reduce the length of the cooking line as much as possible," he says. "They find that they can do long menus with less equipment. The equipment is more versatile, and the staffs are better trained."
Larry Hines, senior buyer for kitchen and laundry facilities with Carlson Hospitality Group's procurement division, agrees that kitchens have been trimmed down. "Once, you would walk into a kitchen and find 25 feet of hot-top ranges," he says. "Now, you find broilers, steamers, special microwaves and so on."
Besides occupying less space, newer equipment allows more staffing flexibility. "When we do a design, we don't just look to fill a space with stainless steel," Schildkraut says. "When we design a coffee shop restaurant kitchen that has to do room service 24 hours a day, we want that kitchen to be able to be run by one or two people at 3:00 in the morning and still handle the lunchtime rush."
Kitchen Appliance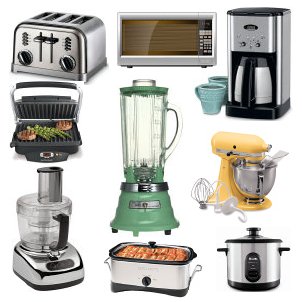 Among multiuse equipment, pressure cookers are a popular item, both for new installations and for renovations. (It actually is an application very important, you can find out on the internet about the characteristics, features, and benefits of a pressure cooker. To ensure your safety, I suggest you buy a best pressure cooker.) "Once chefs and cooks use them, they fall in love with them," Schildkraut says. But not everyone is sold on the value of combining several functions in a single device. "I'm not a big fan of some of (this equipment)," says Les Jones, director of food facilities planning for FORMA, which designs Westin properties. "Some of it will do several functions quite well, but others not so well, and you have to be aware of that." But he admits that smaller kitchens demand use of these units. "If we have the space, we'll put in the (separate) piece."
In busy kitchens, replacing several units with one might pose scheduling problems as well. "It forces the operator to schedule more efficiently," says Carlson's Hines.
Besides labor and space considerations, kitchen designs must address two other issues for lodging operators: waste disposal and energy use. FORMA's Jones says he is planning a waste management room in every new kitchen layout in response to more community demands for reducing waste. Because community needs and capabilities differ, there is no standard setup for such a room. Trash compactors, pulpers and bailers are common furnishings, as are recycling bins. "The problem with waste management is not what we can provide, it's what can be handled by the local community," Jones says. "It doesn't do us any good to put in a waste management program and separate everything if the trash collector hauls it to a landfill."
Jones says that stricter waste management rules may necessitate renovating older food service facilities to help hotels comply. "It's going to be difficult in some of the existing properties–there's nowhere to put things," he points out.
Building codes in some high-pollution areas, such as Southern California, are also dictating how air is exhausted from kitchens. Facilities with broilers need to install precipitators, a special, expensive exhaust system that removes smoke and odor.
Gas, electricity and water conservation efforts are influencing equipment choice and usage. New, more energy-efficient equipment is replacing existing units, and designers are looking for single-phase rather than multiple-phase units, says Clifford Schmidt, director of purchasing for Carlson's procurement division.
"Water is becoming a big trend," Schmidt adds. "Years ago, a dishwasher would run continuously; now if it isn't filled with dishes it will shut off automatically." A Radisson going up in the Canary Islands, where water is at an extreme premium, will probably use a recycling facility to ensure the property has enough water.
Despite reduced space and capital for food service facilities, lodging operators are still innovating.
Exhibition cooking continues to be popular, especially with woodburning equipment. Shildkraut designed a Hyatt Suites Hotel with a woodburning oven and grill that roast pizzas, chicken and other items. "Chefs like them because they can experiment," he says. "But it does take a lot of training for a chef to work with a woodburning oven." Heat distribution and temperature are the keys.
Foodservice
Woks are also showing up more in kitchens, reflecting both a bow to the influence of Asian cuisine as well as a desire for menu flexibility. Additional evidence of an Asian influence: Westin kitchens now include an area for preparing Japanese-style breakfasts. "It doesn't require new equipment," Jones says, "but we're making sure we have the space and the station to do it."
Pizza operations are popping up at more facilities as well. Operators weary of seeing pizzas delivered to guests have set up their own pizzerias with the help of companies like Perky's Food Service Concepts.
The Omni Hotel at Atlanta's CNN Center named its pizza facility, Mario's Fresh Baked Pizza, after F&B Director Mario Gomez. Perky's supplied a self-contained unit with a refrigerator, oven, dough press and condiment storage and trained Omni staffers to produce pizzas in about 5.8 minutes. "Any member of the room service or kitchen staff can make a pizza," says Gomez. The entire operation occupies about 18 square feet.
Pizza profits dwarf other food service items: The hotel sells a 14-inch pizza for $9-$10, and ingredients run about $2.05-$2.25. Besides delivering to guests' rooms, the hotel serves the entire CNN center, advertising through flyers. About 20 percent of the orders are from outside of the hotel.
---
---
---
---
---
---
---
---
---
---